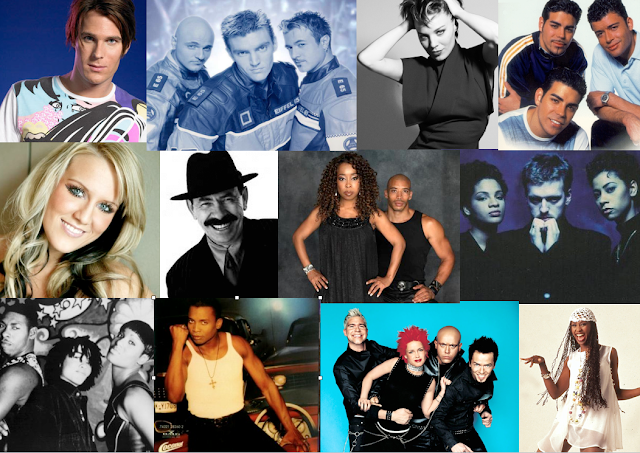 Eurodance este un gen de muzică electronică de dans care a apărut la sfârșitul anilor 80, în principal în Europa. Odată cu declinul Disco, muzica dance s-a înclinat mai mult spre Eurodance, deoarece muzica rock a intrat și ea în mainstream. Eurodance a atins apogeul la începutul anilor 90, dar a dispărut treptat datorită muzicii mai avansate Techno și House care a câștigat teren. Acest gen este puternic influențat de utilizarea vocii melodice bogate, fie exclusiv de la sine, fie uneori cu versuri rapite.
Snap! – Rhythm is a dancer
Real McCoy – Another night
Haddaway – What is love
Eiffel 65 – Blue (Da, Ba, Dee)
Technotronic – Pump up the jam
Aqua – Barbie girl
No Mercy – Where do you go
Gala – Freed from desire
Scatman John – Scatman
Cascada – Everytime we touch
Basshunter – Now you're gone
Corona – The rhythm of the night
Snap! – The Power
Real McCoy – Runaway
Culture Beat – Mr. Vain
Whigfield – Saturday night
Mr. President – Coco jamboo
2 Unlimited – No limit
Dr. Alban – It's my life
Vengaboys – Boom, boom, boom, boom
Aqua – Doctor Jones
Ace of Base – Cruel Summer
Cappella – U got 2 let the music
Eiffel 65 – Move your body
La Bouche – Be my lover
ATC – Around the world (La, La, La, La, La)
2 Unlimited – Get ready for this
Gina G – Ooh Aah… Just a little bit
Sash! – Ecuador
Alice Deejay – Better off alone
O-Zone – Dragostea din tei
DJ Bobi – Somebody dance with me
Rozella – Everybody's free (to feel good)
Vengaboys – We like to party
Alexia – Uh la la la
Ace of Base – Beautiful life
Maxx – Get-a-way
Aqua – My oh my
Chilli ft. Carrapicho – Tic tic tac
T-Spoon – Sex on the beach
Amber – This is your night
Haddaway – Life
Sash! – Encore en fois
E-Rotic – Max don't have sex with your ex
2 Unlimited – Twilight zone
Twenty 4 Seven – Slave to the music
Gala – Let a boy cry
Corona – Baby baby
Aqua – Roses are red
E-Type – This is the way
Magic Affair – Omen III
Real McCoy – One more time
La Bouche – Sweet dreams
Double You – Please don't go
Whigfield – Another day
Scatman John – Scatman's world
DJ Bobo – Let the dream come true
Haddaway – Rock my heart
Captain Hollywood Project – More and more
2 Unlimited – Tribal dance
Paradisio – Bailando
No Mercy – Please don't go
Culture Beat – Got to get it
Corona – Try me out
Culture Beat – Anything
Dr. Alban – Sing hallelujah
E-Type – Campione 2000
Pandora – Don't you know
Cappella – Move on baby
Alexia – Summer is crazy
E-Rotic – Fred come to the bed
DJ Bobo – Love is all around
Fun Factory – Take your chance
Le Click – Tonight is
Cântecele și ritmurile sunt de obicei foarte pozitive și optimiste și aproape întotdeauna în engleză, indiferent de naționalitățile artistului, deși uneori au fost folosite cuvinte și expresii din alte limbi. Chiar dacă genul Eurodance practic a încetat să mai existe, elementele sale pot fi văzute în Dance-pop și sub-genurile sale, Europop și Romanian Pop. Deși artiștii nu mai produc în cadrul genului, hiturile Eurodance sunt eșantionate pentru a satisface gustul predominant. Cu minuțiozitate, am întocmit această listă cu cele mai mari 100 de cântece Eurodance. Dacă ești un fan al anilor 90, cu siguranță vei cunoaște majoritatea acestor melodii, dar dacă nu o faci, te îndemn să verifici și să asculți restul și să te actualizezi cu privire la epoca Eurodance.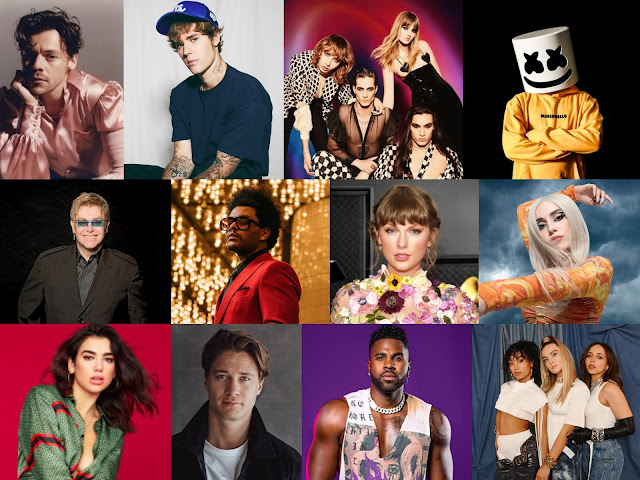 Etichete: Ace of Base , Aqua , Basshunter , Cascada , Eiffel 65 , Cele mai mari hituri Eurodance din toate timpurile , Haddaway , La Bouche , No Mercy , Real McCoy , Rhythm is a dancer , Snap! , Technotronic , Vengaboys
ASCULTĂ PE MOBIL ȘI PLAYER